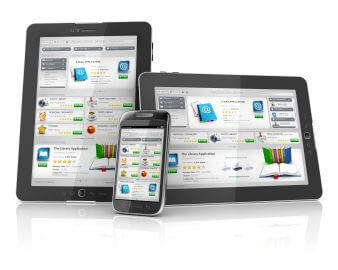 Responsive Website Design
With today's technology it is important that your website be visible on all devices. If someone looks at your website on their smart phone, iPhone, cell phone, tablet, iPad or other device, you want your website to function and look good!
Treasure Web Designs creates responsive websites. A responsive website "responds" to the device the website is viewed on. That way your website will look professional, modern, and function properly no matter what device it is viewed on.
This is much better than creating a mobile version of your website because you will not get penalized by search engines for having duplicate content. And, it makes it easy for visitors to view your website.
We are dedicated to bringing you the most affordable responsive web design packages and provide you with website designs that you will love!
We know that having a website is a great marketing tool for your business and that your new website needs to reach as many people as possible. That's why we specialize in responsive web design. A responsive website will detect or respond to the device the website is viewed on. Your website will function well and impress your clients no matter what device they view it on.
We take great pride in our website designs. They are professional, function well, are affordable and easy to use. We take the time to create a website that meets your needs.
Our work has helped to create huge sales for our clients. We look forward to working with you to maximize the distribution of your goods and/or services.
How to get your website to the world fast!
Request a FREE quote and provide suggestions of what you would like your site to look like… i.e.. informal, formal, a catalogue, humorous, elegant, etc. If you have seen something on a site which impressed you, we can create something similar, but customized for your individual unique needs and is also responsive website design.