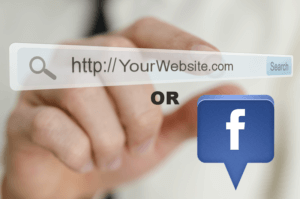 Facebook can be used as a great marketing tool for small businesses. It is free, easy-to-use, and a good communication too. But should your Facebook page be used as your main website? The answer is no. Facebook should be used to communicate with your current and potential customers, but not as your main Web presence. Here's why:
It's unfriendly for non-Facebook users. Facebook wants everyone to be on Facebook, and it's pulling out all the stops to try and get people there. When a non-Facebook user visits, your Facebook page a huge pop-up encouraging registration or login blocks your content and drives away customers who simply don't want to use Facebook.
It needs to be maintained. Social media accounts need to be updated often. If you don't post at least once a week, your Facebook page will look outdated. However, a website just needs to be updated when you have new information to give your clients.
It's being too social when used as your main Web presence. There are some kinds of business relationships that people like to keep private. For example, they might not want all their Facebook Fans to know they're searching for something very personal.
It's not customizable. Facebook pages fulfill the same basic function as any website: putting information online so people can access it. But if you want more control over design or additional functionality such as e-commerce or a blog, your options on Facebook are limited.
It looks less professional. It is less professional for a business's primary site to be a Facebook page. A website can be designed to look very professional.
Facebook is a convenient way to communicate with customers, and a Facebook page should be part of the marketing strategy. You want people to move from your Facebook page to your website so you can more easily sell them your products or services. It's also a good way for new businesses to get the word out while their website is being created. But in most cases, there are too many disadvantages to completely ditch your main website in favour of Facebook.