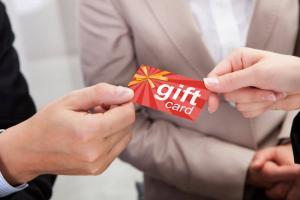 Whether you own a retail store, beauty salon, restaurant or other local business, gift cards can be a great way to boost sales. Gift cards aren't just for large, national chains anymore. Consumers are very open to buying gift cards from small, independent retailers.
Here are 5 tips for using gift cards to increase your sales:
Promote your gift cards on social media. Consumers are increasingly turning to social media for gift ideas.
Use a gift card as promotional items. You can draw customers into your business with gift-card related promotions. For example, give customers a $10 gift card for every $50 they spend. It's worth the cost, because customers who visit a business to use a gift card typically end up spending far more than the card's value.
If you have a retail store, place gift cards at the point of purchase.  Buying a gift card is often an impulse buy, so putting an attractive display with gift cards near your registers can really boost sales.
Use gift cards to reward loyal customers. If you have a loyalty program in place, try using a gift card instead of or in addition to discounts.  A gift card has higher perceived value than discounts, so they're more successful at getting customers into your business.
Market gift cards as "the perfect gift for (fill in the blank)."  A gift card is suitable for just about any recipient, so emphasize that in your marketing messages.
No matter what type of store you have or how big your business is, you'll likely benefit from carrying them in your shops. You can order gift cards on-line.  Please share with us your ideas to promote businesses in the comments below.  We are here to help you make your business a success!