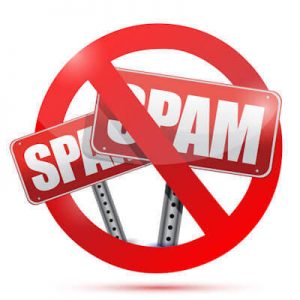 Canada's Anti Spam Laws:
Canada's anti spam laws or legislation (CASL) came into effect on July 1, 2014.  If you or your business sends out any kind of commercial electronic messages (CEMs), including emails, texts, social networking messages and other electronic communications, then this is something you need to take seriously. This is a reminder that if you or your business does not comply you could face fines of up to $1 million for individuals and up to $10 million for companies.
There are three anti spam law rules to follow:
1. Consent: You must have expressed or implied consent to send a message. It is up you to prove that you have that persons consent to send them emails. So, you will need to keep track of how people sign up for your mailing list and keep that information in a database. This is why a lot of companies are sending out messages to their lists asking for them to give consent again. That way they will be able to save the consent information in a database.
2. Identification: You must clearly and simply identify yourselves in all emails sent out to your mailing list. This includes adding your phone number, email address and mailing address to all emails. If you have a home based business, it is recommended that you get a mailbox for this purpose.
3. Unsubscribe Mechanism: In every message you send, you must provide a way for recipients to unsubscribe from receiving messages in the future.
For more information, please visit these websites:
http://www.crtc.gc.ca/eng/casl-lcap.htm
http://fightspam.gc.ca/eic/site/030.nsf/eng/h_00050.html#Commercial